OptiMATE 5 VoltMatic TM-222 8 Step 6V 4A/12V 2.8A Battery Saving Charger-Tester-Maintainer
OptiMate 5 with 2.8Amps is the ideal all in one tool to care for your cruiser motorcycle, boat or car battery.
In a weatherproof sealed enclosure that includes wallmounts, the OptiMate 5will diagnose, recover, charge, test and maintain your batteries automatically. Recommended for STD (with removable filler caps), sealed AGM (absorbed glass mat) & sealed GEL 12V lead-acid batteries from 8Ah to 120Ah, although it can also maintain larger batteries (it will just take longer to charge).
Charging: Recommended for all lead-acid batteries from 7.5Ah – 120Ah
Maintaining: up to 180Ah
Description
STEPS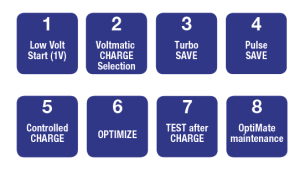 Advanced 6V & 12V battery care for power sport / auto / marine size batteries.
OptiMate 5 VoltMatic can SAVE & CHARGE all 6V & 12V lead-acid batteries. Simply connect the charger to the battery, the VoltMatic micro-processor automatically makes the correct charge voltage selection for a 6V battery in any condition or healthy* 12V battery and then proceeds to charging.  * Manual over-ride for very low voltage12V batteries is available.
Charge current is regulated according to connected battery size and condition.
Leave connected for unsupervised months-long maintenance charging; OptiMate senses the battery condition, delivers charge when needed to keep battery at 100%.
CHARGING AMPS : 4A (6V) / 2.8A (12V) (Ampmatic)
USE : Indoor / Outdoor  (lowest temperature: -4°F / -20°C).
SAVE : Low Volt Start of 1V + 2-step desulphation recovery.
IDEAL FOR : STD, AGM & GEL 6 & 12V batteries from 8 – 120Ah (up to 192Ah for 6V).
INPUT : Global (100-240V 50-60Hz), high efficiency (CEC listed), fully sealed.
STYLE : Weatherproof case with wall mounts, with 6ft / 180cm AC supply lead and 6ft / 180cm charge lead ending in SAE connector. Weatherproof battery lead & standard battery clip set included.

SAFE: No risk of overcharging. Totally safe for vehicle electronics. Sparks suppressed. Safe for long-term battery maintenance. Automatic shut-down if short-circuited or battery disconnected. 3-year limited replacement warranty.